CES em Cena
Current issue: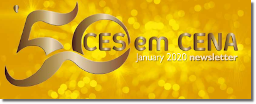 CES em CENA at 50
The idea behind CES em CENA, from the first moment, was to give voice to CES' diverse voices. It created a space for CES perspectives on important issues of our times – in Portugal, in science, and in world affairs.
Since 2004, CES em CENA has chronicled the development and growth of CES, highlighting the diverse milestones that have marked its trajectory: research projects, awards, events, advanced training programmes, post-doctoral fellows, and publications. From issue no. 3, the bilingual character of the newsletter was set, with alternating issues in Portuguese and English. The first issues were image-free, and text-full – we can see a clear difference from then to now.
It has presented the work being done and to do, in terms of research projects and CES' links to a diversity of audiences and the community in general. As for the research projects, we see the internationalization of CES via projects like Alice, Tolerace, or Intimate, among many others. A glance back through the issues also shows how much CES has grown, not only in terms of the number of researchers and projects, but also in terms of observatories (like CRISALT), strategic events, and even venues (CES Lisboa opened in 2009 and CES Sofia in 2016).
The newsletter attests to the vibrancy of CES and to an amazing array of events, from seminars to large conferences like Luso-Afro-Brasileiro de Ciências Sociais in 2004 (returning to Coimbra in 2020), 30 anos and 40 anos, Challenging Citizenship, and Cities are Us, as well as international workshops such as i-Mumbai: Identity, Religion and Heritage of Portuguese Influence on the Fringes of an Indian Metropolis and the colloquium Legacies of the Tricontinental: Imperialism, Resistance and Law. In 2009, CES Summer School began. We see the growth of extension activities like Ciência Viva and CES vai à Escola and the launch of the annual Training Course Publish, do not Perish: Survive the Stampede.
Through all this activity and diversification of initiatives, some themes have featured regularly on the CES agenda: peace and interculturality; inequalities; violence; afro descendants; racism; diaspora; African imaginary; ecology, environment, and sustainability; the future of Europe; cities and urban life; heritage and memories; democratic governance; human rights; health; and the crisis in Portugal.
The issues in 2014 marked the 40th anniversary of the Portuguese Carnation Revolution, looking forward. The issue 27 editorial noted: "The role of the Social Sciences and Humanities, and of the Centre for Social Studies, in de-constructing the myths of the past was paramount in Portugal, fostering a critical stance in what concerns ideological dominance and the rule and reproduction of the elites. … it is important to implement a vigilant epistemology on the specific role of scientific and academic knowledge and to incorporate all kinds of knowledge and epistemologies" (José Manuel Mendes). To these ends, we go forward …
Patrícia Branco and Nancy Duxbury
Previous Issues: