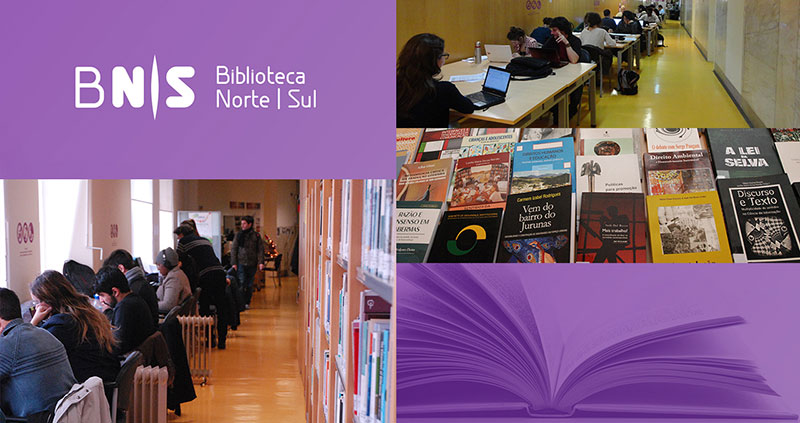 SCHEDULE: Monday through Friday, 9:30am to 6pm
---
Dear Students and Researchers,

Access to the Norte/Sul Library is through CES main entrance, 2nd door to the left of the parking lot.

The Direção CES recommends the use of masks in common spaces, particularly when:

- Common use spaces ( Library, bar and cafeteria) are close to their maximum capacity;

- ventilation of the spaces is not adequate or possible;

- The CES Direção appeals to the individual responsibility, to keep the mask whenever people have symptoms of any viral infection or know they have been in contact with possible transmitters, and also whenever they are in the presence of immunocompromised people.

Best wishes for your academic work!

Thank you for your cooperation and understanding
Maria José Paiva Fernandes Carvalho, Biblioteca Norte|Sul Coordinator
https://orcid.org/0000-0003-2781-0444
Acácio Machado, Librarian
Inês Sequeira Lima, Librarian
https://orcid.org/0000-0002-4169-0269
Isabel Pereira de Matos, Librarian
---
To facilitate the book lending/borrowing process, we recommend that you request the titles an advance via e-mail: biblioteca@ces.uc.pt. We also inform you that we will continue to support your bibliographic research - at distance - by responding to requests submitted via the above-mentioned e-mail.
Should you need to return books or other materials borrowed from the Biblioteca Norte/Sul - borrowed from BNS only - you may ship them by registered post to:
Centro de Estudos Sociais - Biblioteca NorteSul
Colégio de S. Jerónimo, Largo D. Dinis
Apartado 3087
Coimbra 3000 - 995
Thank you for your attention and understanding!

Best regards and best wishes.
---
The Norte/Sul Library (BN/S) aims to develop a coherent, credible and comprehensive bibliographic collection (books and periodicals; print and online formats), specially but not exclusively, centered in the scientific production carried out in the areas of Social Sciences and Humanities, in the global South. It also includes the scientific production carried out in the Northern countries on issues related to research pertaining to the countries of the South.
Created in 1998, the BN/S is currently experiencing a period of growth in its collections, which encompasses a wide range of subjects. The current BN/S collections comprise more than 29,000 volumes (monographs, theses, dissertations, research reports, and gray literature), including a collection of around 2,600 volumes donated by the April 25th Documentation Center, and more than 400 periodical titles (from various countries around the world) in Social Sciences and Humanities.

Contact: biblioteca@ces.uc.pt