---
---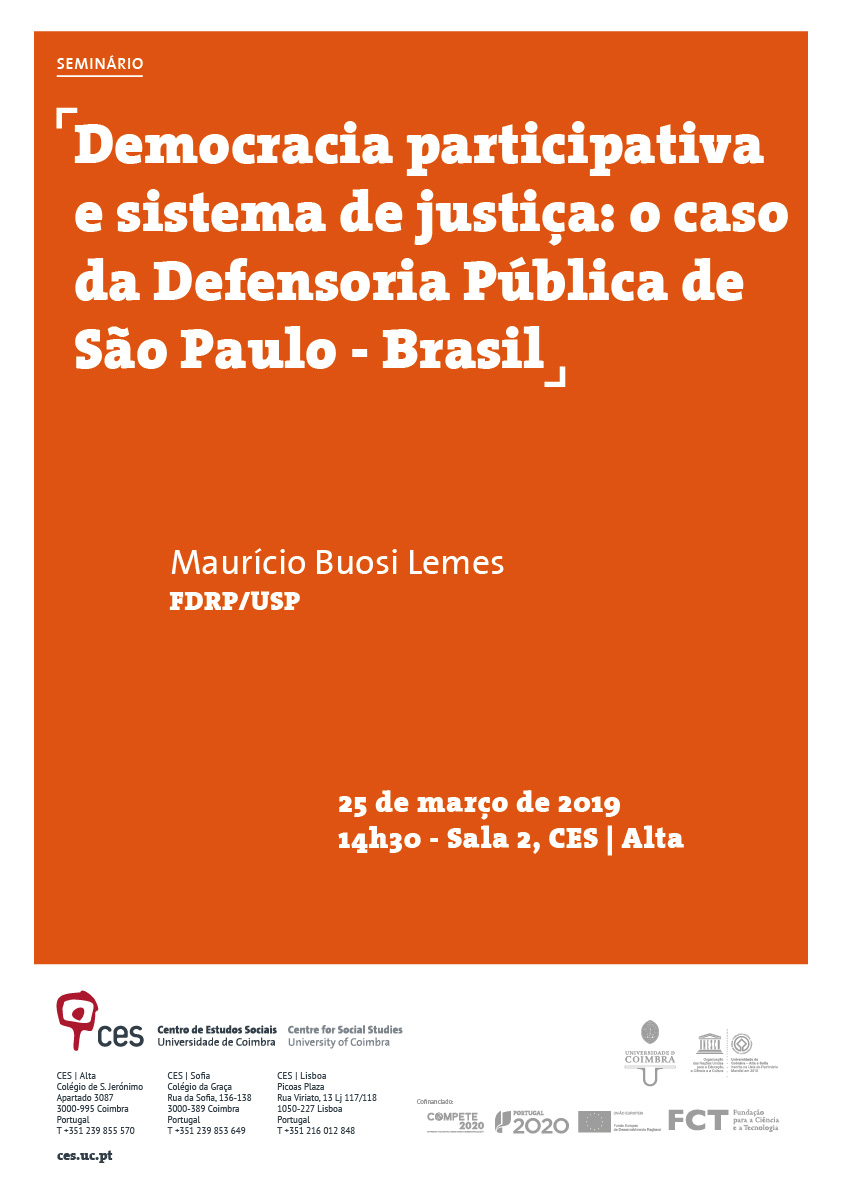 Seminar
Participatory democracy and the justice system: the case of the Public Defender of São Paulo - Brazil
Maurício Buosi Lemes (FDRP/USP)
March 25, 2019, 14h30
Room 2, CES | Alta
Read more
---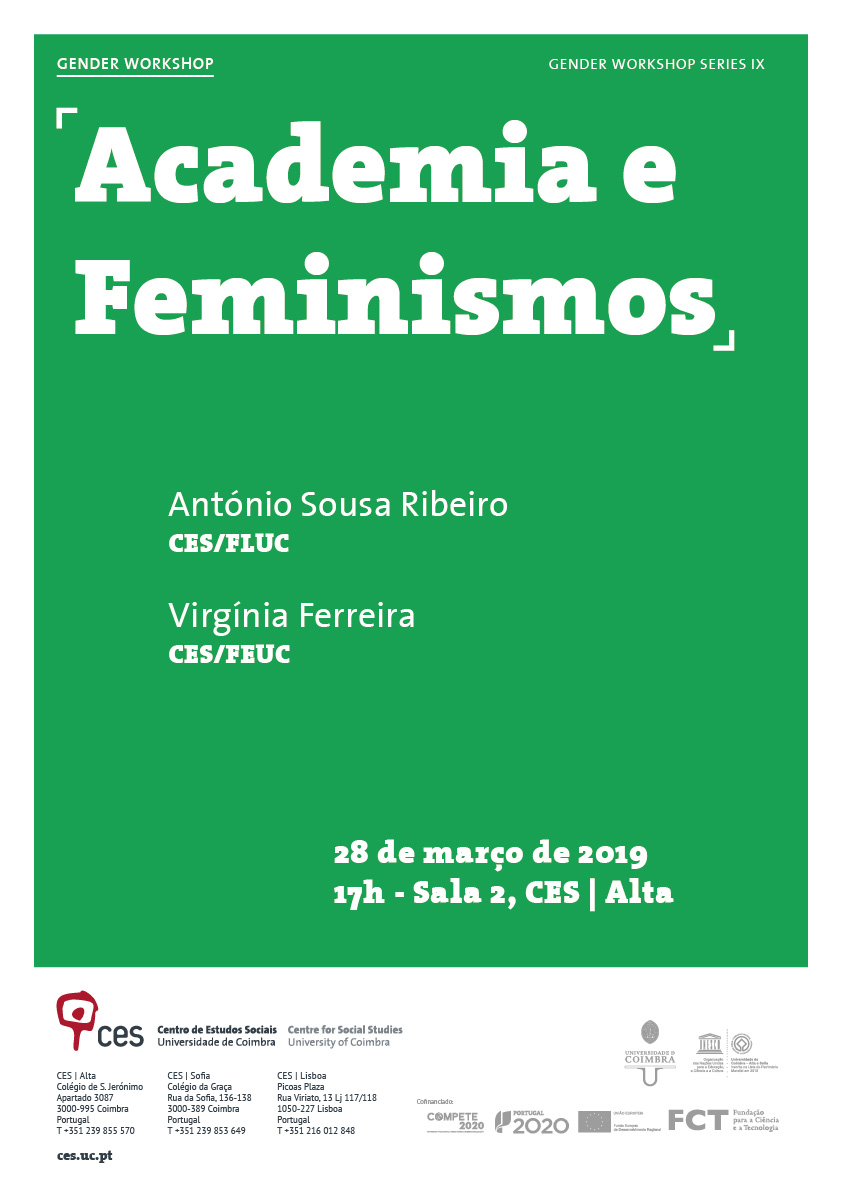 Gender worshop
Academy and Feminisms
António Sousa Ribeiro
Virgínia Ferreira
March 28, 2019, 17h00
Room 1, CES | Alta
Read more
---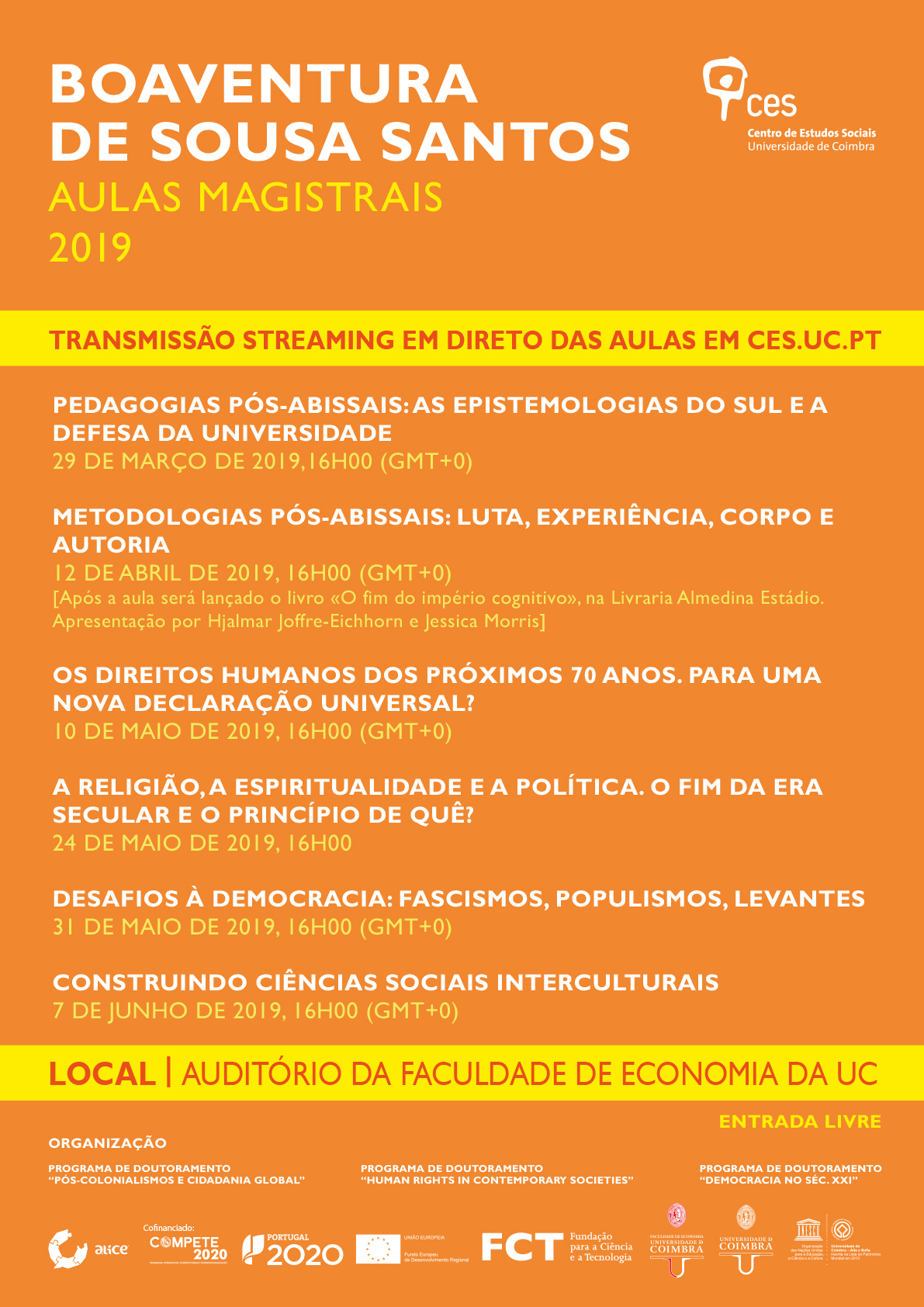 Master Class
Post-abyssal pedagogies: the epistemologies of the South and the defence of the university
Boaventura de Sousa Santos (CES/FEUC)
March 29, 2019, 16h00
Auditorium, Faculty of Economics UC | ONLINE STREAMING
Read more
---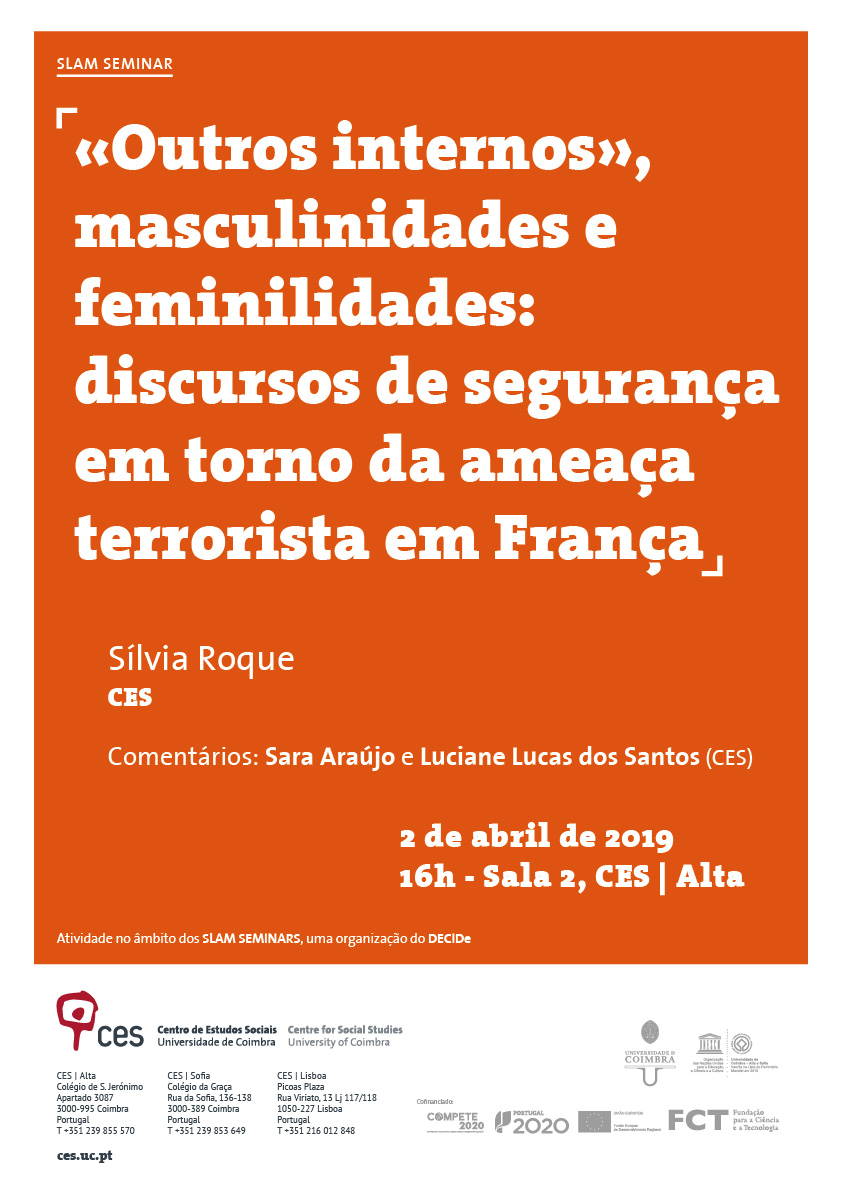 SLAM SEMINAR
«Other nationals», masculinities and femininities: security speeches about the terrorist threat in France
Sílvia Roque (CES)
April 2, 2019, 16h00
Room 2, CES | Alta
Read more
---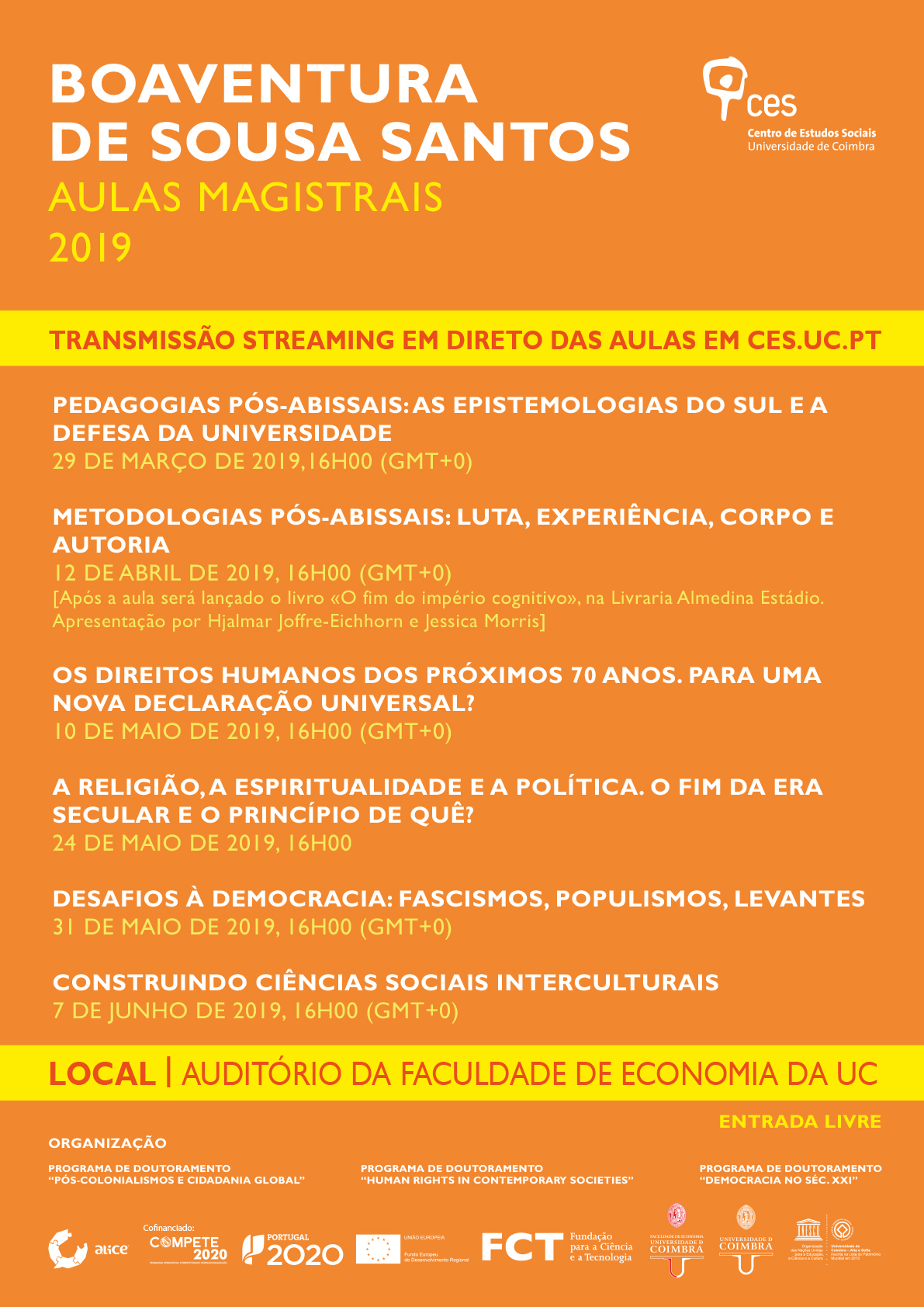 MASTER CLASS
Post-abyssal methodologies: struggle, experience, body and authorship
Boaventura de Sousa Santos (CES/FEUC)
April 12, 2019, 16h00
Auditorium, Faculty of Economics UC | ONLINE STREAMING
Read more
---
Seminar
Art and Epistemologies of the South - The struggle for an emancipatory and transgressive right
Paola Cantarini Guerra (CES)
May 2, 2019, 10h00
Room 2, CES | Alta
Read more
---
Workshop
Social Innovation and the Role of the State
May 9, 2019, 14h00
Room 1, CES | Alta
Read more
---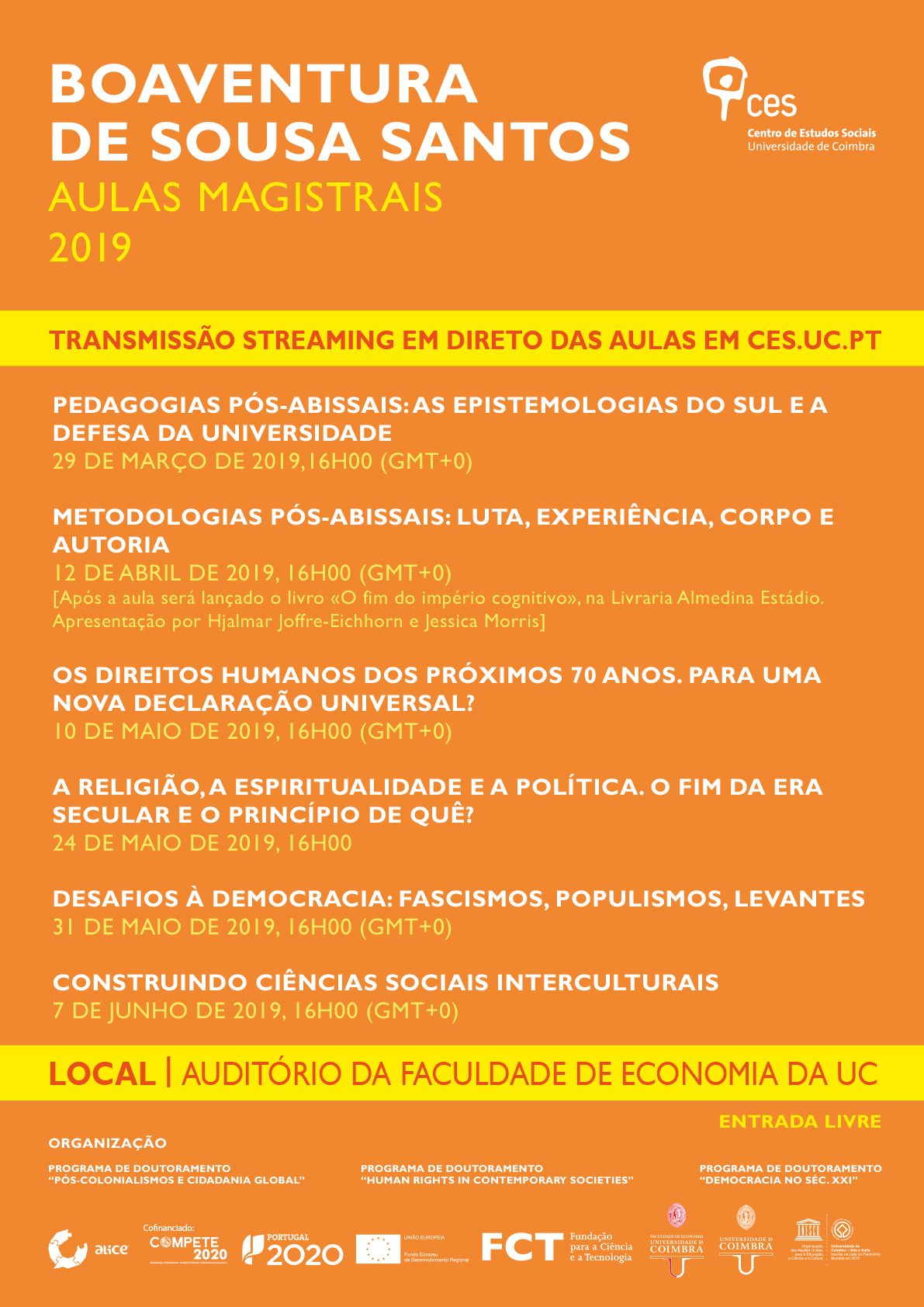 MASTER CLASS
Human rights of the next 70 years. Towards a new Universal Declaration?
Boaventura de Sousa Santos (CES/FEUC)
May 10, 2019, 16h00
Auditorium, Faculty of Economics UC | ONLINE STREAMING
Read more
---
Seminar
The self-determination of Timor-Leste: perspectives from Australia
Michael Leach (Swinburne University of Technology)
May 20, 2019, 17h00
Room 2, CES | Alta
---
International conference
Bridging the Divide: Histories, Ethnographies and Agencies in the Liberation Wars in Angola, Mozambique and Guinea-Bissau
May 23, 2019, 09h30
Room 1, CES | Alta
Read more
---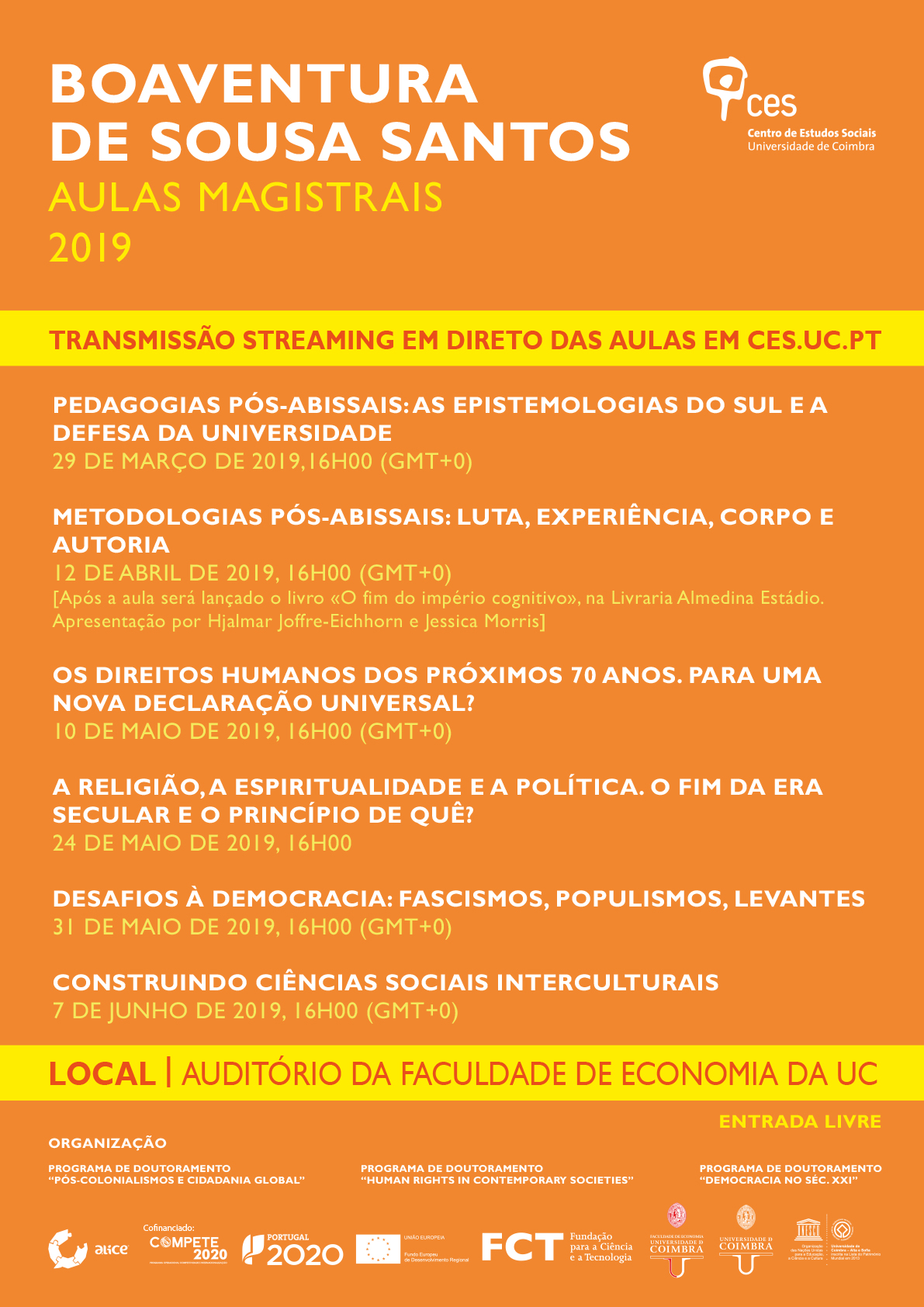 MASTER CLASS
Religion, spirituality and politics. The end of the secular era and the beginning of what?
Boaventura de Sousa Santos (CES/FEUC)
May 24, 2019, 16h00
Auditorium, Faculty of Economics UC | ONLINE STREAMING
Read more
---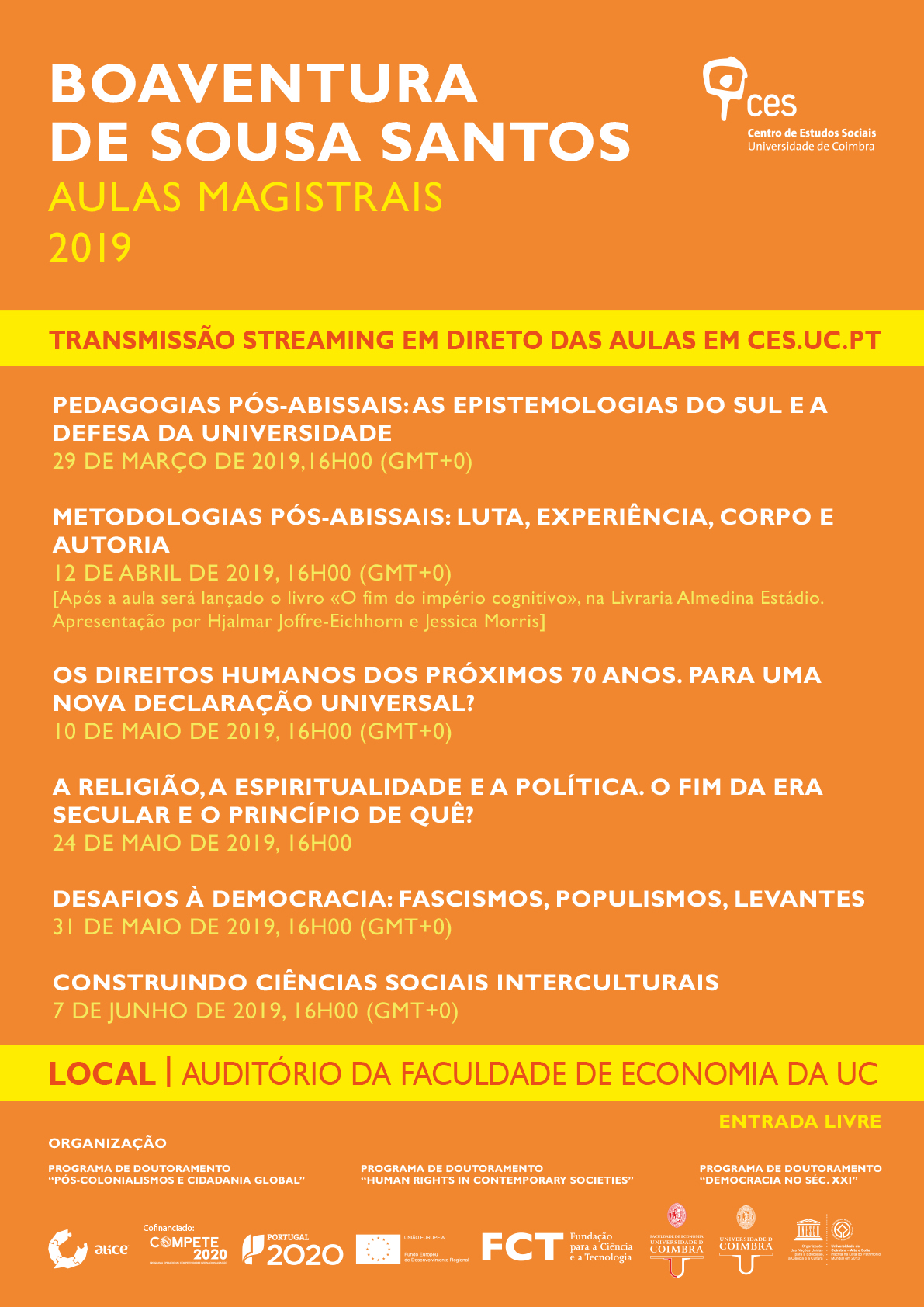 MASTER CLASS
Challenges to democracy: fascism, populism, uprisings
Boaventura de Sousa Santos (CES/FEUC)
May 31, 2019, 16h00
Auditorium, Faculty of Economics UC | ONLINE STREAMING
Read more
---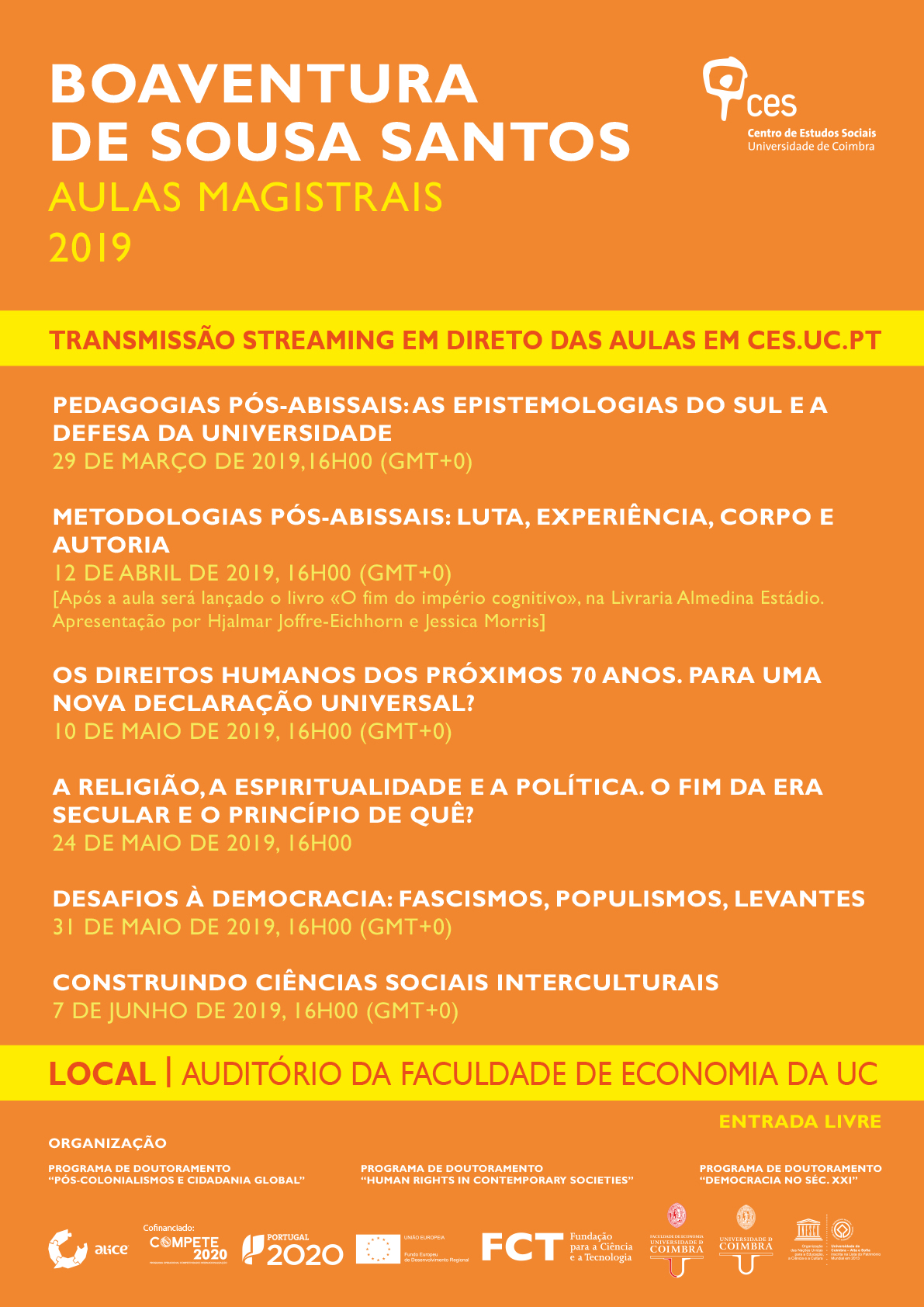 MASTER CLASS
Building intercultural social sciences
Boaventura de Sousa Santos (CES/FEUC)
June 7, 2019, 16h00
Auditorium, Faculty of Economics UC | ONLINE STREAMING
Read more
---