Cultural Heritage Open Workshops: Sharing Collaborative Experiences
4th WORKSHOP| Transforming through Art: the«EU no musEU» programme
Virgínia Gomes (Museu Nacional de Machado de Castro / Direção-Geral do Património Cultural)
June 15, 2023, 14h30-17h00
Room 1, CES | Alta + Online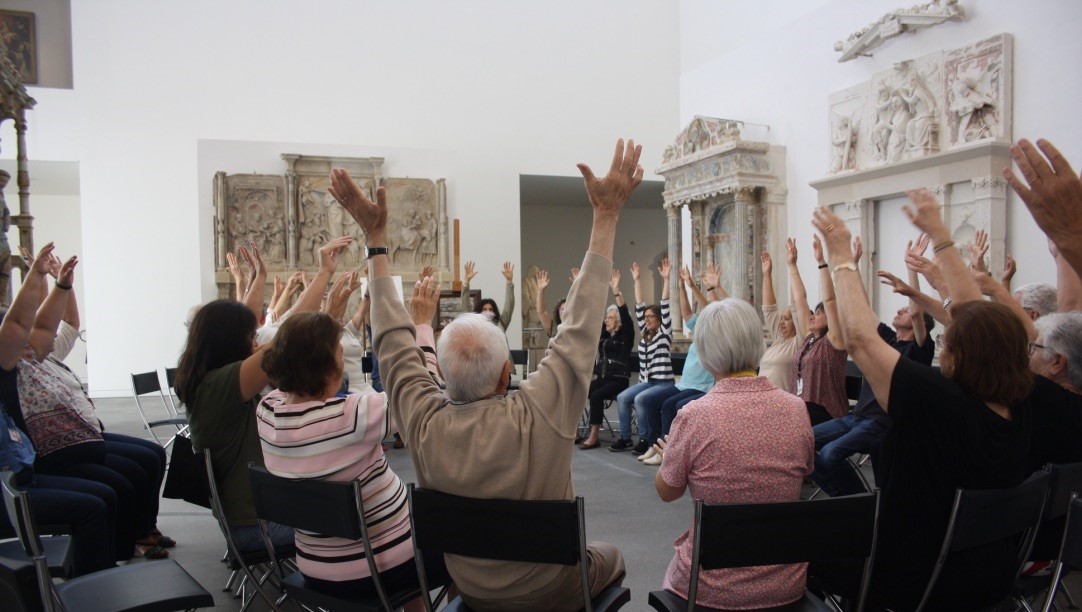 Promotion of Mindfulness. Joint Session – EU no musEU, session 55, july 2017 | MNMC | © Rita Sousa (Volunteer)
About
EU no musEU is a cognitive and social stimulation programme for people with dementia and their carers (family members) that transforms them, their families, the teams involved and the members of civil society involved through art.
Why create programmes for people with dementia and their carers in museums?
The demographic realities - Portuguese and European - demonstrate the inversion of the age pyramid and the urgency to support an ageing population group, often active, for whom the so-called inclusion programmes in museums are a means of socialization, cultural democratization and citizenship recovery. The work of art used as a tool to communicate the cultural and personal matrix of these publics can contribute to the promotion of mental health and cultural enrichment.
Programme
14h30 - Opening
14h45 - Virgínia Gomes (Superior Technician. Machado de Castro National Museum / Directorate-General of Cultural Heritage)
15h30 - Collaborative roundtable of experiences (moderated by Catarina Almeida Marado and Lorena Sancho Querol)
16h45 - Closing session
Bio note
Virgínia Gomes is curator of the Painting, Drawing and Engraving collections of the Machado de Castro National Museum (MNMC) in Coimbra, since 1993, having produced research on ancient painting and curated several exhibitions, in different areas and with multidisciplinary teams. She coordinates some inclusion projects, especially the "EU in the museum" programme for people with dementia and their informal carers. Created in 2011, this programme has been distinguished and referenced by society and culture bodies in Portugal and the EU and replicated in Viseu in 2018. She graduated in History from FLUL (1983-1987), complemented her academic training with the curricular subjects of History of Art from FLUC (1996-2000) and specialised in augmentative communication with people with dementia, in museums, with a Master's degree in Special Education from ESECS of the Polytechnic Institute of Leiria (2014-2016). She advocates the role of the Museum as an active agent in the promotion of (in)formation for all and with all.
_______________________

This activity will be provided through Zoom platform and does not require registration. Participation is limited to the number of places available >> https://zoom.us/j/82340917237| ID: 823 4091 7237 | Password: 249491
Please keep the microphone on mute until the discussion is open. The host may remove disruptive participants.
Open activities in digital format, such as this one, do not grant a declaration of participation. Such document will only be guaranteed in events with prior registration and regulated access.