International Colloquium
Institutional racism, justice system and public policies in Peru and Brazil: overcoming comparative approaches
July 8 and 9, 2021, 14h30 (GMT+01:00)
Online event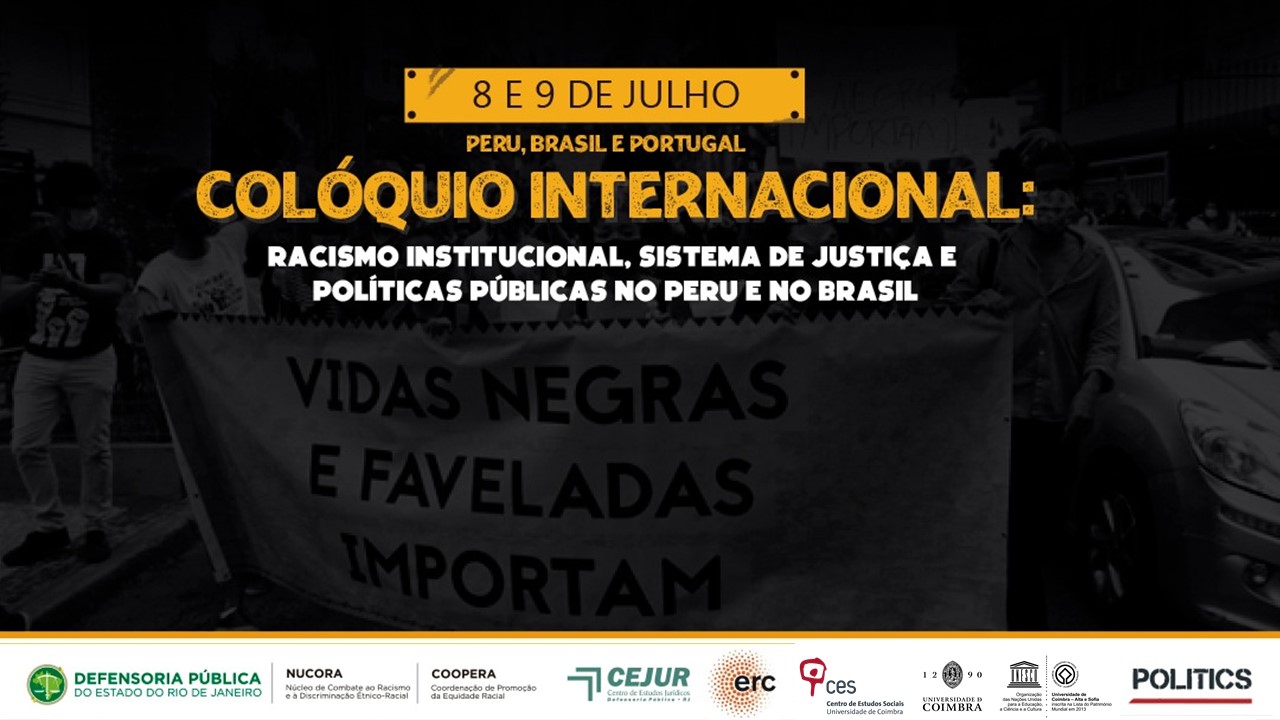 Call for papers & cases until June 20th

About

The project POLITICS: The politics of antiracism in Europe and Latin America (2017-2022) aims to deepen and innovate knowledge and debate on antiracism in European and Latin American contexts. Therefore, the colloquium will focus on racism - understood as a system of oppression rooted historically and challenged by institutions and grassroots movements. POLITICS is funded by the European Research Council (ERC), coordinated by Silvia Rodríguez Maeso, and based at the Centre for Social Studies (CES) of the University of Coimbra. The project analyses the power relations that shape anti-racism in diverse contexts and the links between the global, national and local levels, as well as the processes of dialogue and conflict between grassroots organisations and institutions.
During the research conducted for the project, prosecutors, judges and defenders aligned with the cause of human rights but with a critical understanding of the functioning of justice were interviewed. A difficulty discussed in almost all the interviews produced by the POLITICS project so far with agents of the justice system, was that of placing institutional racism as an argument within legal plays. This "difficulty", found both in research conducted in Peru and in Brazil, will be the object of debate during the colloquium. The guest speakers will be people belonging to social movements in Brazil and Peru, the Public Defender's Office of Rio de Janeiro, academics in the fields of sociology, anthropology, law, among other disciplines relevant to the theme in the Peruvian and Brazilian contexts.
Racism is often silenced, denied or discussed in terms of identifying cases of 'racial discrimination' or 'human rights violations' committed by the police. Based on a mapping of debates in Peru and Brazil, we propose that the analysis of racism and institutional violence needs to destabilise the discourse that circumscribes racism only from individual attitudes and embedded in the discussion on public security and highlight the functioning of state racial projects dominated by anti-negritude that is not always enunciated. We consider anti-negritude and racialisation as an ongoing practice of governance that makes racism an effective system of oppression that produces white life/existence at the expense of black death/survival.
The Colloquium is a partnership between the POLITICS project: the politics of anti-racism in Europe and Latin America and the Public Defender's Office of the State of Rio de Janeiro.
Programme (speakers tbc)

Table 1 | Racial Policing, Justice System and Data Production
Table 2 | Youth, institutional racism and public security policies