Concert
Andrés Stagnaro
June 3, 2015, 18h30
Casa das Artes da Fundação Bissaya Barreto (Coimbra)
Framework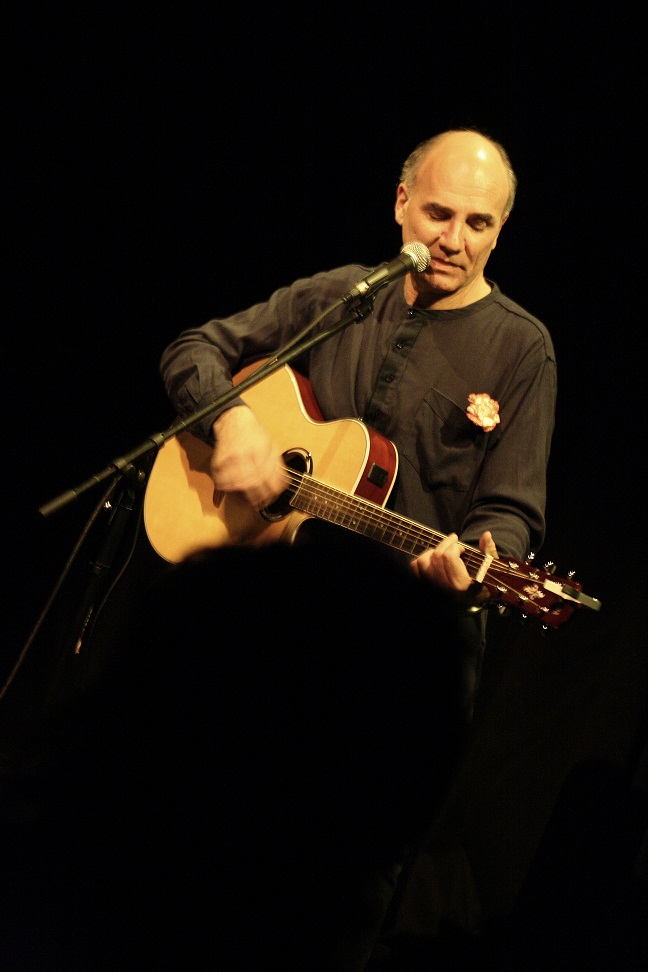 Andrés Stagnaro is a renowned Uruguayan poet and songwriter with a strong connection to Portugal. He sings and composes his own poems as well as poems authored by others in a unique way, giving them a new life, albeit with deference and contributing to their dissemination. The repertoire includes writings of José Saramago and David Mourão Ferreira. During the concerts, there is room for Latin American revolutionary music and Portuguese intervention music, particularly that of José Afonso
The concert at Casa das Arts marks the return of this South American artist to Portugal, after a short tour in 2009. Free entrance.
Further information available at Andrés Stagnaro's personal website:: www.andresstagnaro.com
Activity within the project "ALICE – Strange Mirrors, Unsuspected Lessons: Leading Europe to a new way of sharing the world experiences" and Casa da Artes da Fundação Bissaya Barreto.



Bio note

Andrés Stagnaro. Cantautor uruguayo nacido en Salto, Uruguay. Desde la adolescencia comienza a cantar en público, integrando un grupo de música latinoamericana con amigos y estudiantes, en su tierra natal. Más tarde integra dos dúos folclóricos con
los que actúa en Salto, Concordia (Argentina) y otras localidades salteñas, también en la televisión local. Comienza a musicalizar poesía tempranamente y continúa haciéndolo actualmente. En 1980 se radica en Montevideo. Es allí cuando se afianza definitivamente como compositor. Establece vínculos con un nutrido grupo de poetas y músicos, como Washington Benavides, Walter Ortiz y Ayala, Eduardo Darnauchans, entre otros.

Integra la Murga "Reina de la Teja" durante dos años.

Comienza sus primeras grabaciones musicalizando a poetas uruguayos contemporáneos además de sus sus propios textos.

Es editado en varias selecciones de música uruguaya.

Desde 1993 sus conciertos se caracterizan por ser multidisciplinarios, incluyendo Teatro y Danza. También realiza conciertos con su guitarra.

Su producción de perfil baladístico e intimista, recoge influencias de la música popular de América Latina, en especial la uruguaya y el folk.

El registro de su voz capaz de adaptarse a varios estilos, produce en sus actuaciones un efecto renovado y siempre sorprendente.

Parte de su actuación

1999 - En el entorno de los 25 años de la revolución de abril es invitado a Portugal a participar en el proyecto Maré Alta, con el grupo del mismo nombre.

2004 –Gira por Portugal y España (Galicia)

2005- Organiza junto con la Junta Departamental de Montevideo un homenaje a la lengua portuguesa, llevado a cabo los días 26 y 29 de octubre.

2006- "Las canciones de José Afonso ", Homenaje al cantautor portugués.

2006 Invitado a la Festa Avante (Portugal) Actúa en Lisboa, Ourém y en España (Galicia )

2007 - "Entre dos puertos" Musicaliza poemas de Saramago, Sá Carneiro , Fernando Pessoa, Benavides , Arbeleche y otros poetas portugueses y uruguayos.

2007- Organiza en Montevideo Junto a la Junta Departamental, un monolito en la Plaza Portugal de homenaje al Cantautor portugués José Afonso. Con el apoyo de la Intendencia Municipal de Montevideo.

2008 – "Mujeres en mi voz ", junto a la actriz y dramaturga Raquel Diana – Homenajeando a las poetas uruguayas. Idea original de Carmen Galusso. Sala Zitarrosa

2009 - Gira por Portugal

2009- "Canciones de la Guerra Civil Española" en Sala Zitarrosa de Montevideo

2010- Mujeres en mi voz, en el Teatro "El Galpón" de Montevideo.

2011-Mujeres en mi voz-Presentación del Cd- Sala Zitarrosa

2011- Grabación en vivo del espectáculo "Cantando a Saramago" En centro Cultural de España en Montevideo

2012- Presentación del Cd "Canciones de la Guerra Civil Española" en Montevideo

2012- Presentación del Cd "Cantando a Saramago" en Portugal (abril) y en Montevideo (mayo)

2012- Presentación en Montevideo del espectáculo "El mar de Salvador", en el que canta poemas inéditos del poeta Salvador Puig- Sala Vaz Ferreira de la Biblioteca Nacional. Homenaje aSalvador Puig ,cantando con su música al poeta y leyendo sus poemas.

2013- Marzo -Presentación del espectáculo "Delmira" junto a la actriz Claudia Trecu en Sala Verdi de Montevideo- Cantando poemas musicalizados de Delmira Agustini a los cien años de la primera edición de su libro "Los cálices vacíos"

2013-Abril- Canta en Montevideo a José Afonso "La canción es un arma" Homenaje al cantautor portugués en un espectáculo multidisciplinario- Abril 2013- Sala Blanca Podestá- Teatro AGADU- Montevideo-, junto al contrabajista Andrés Pigatto, la bailarina Romina Cecilia Pérez y la actriz Diana Bresque. Participación especial del poeta Victor Cunha.

2013-Mayo "Andrés Stagnaro canta a Marosa"- Mayo 2013- Presenta en Salto en la reinaguración de la Casa Horacio Quiroga y en el teatro del mismo nombre el espectáculo donde canta sus musicalizaciones a la poeta salteña Marosa di Giorgio.

Julio 2013- Presenta "Colores portugueses". El artista realiza una selección de canciones populares y obras de cantautores portugueses aparte de sus propias musicalizaciones a poetas lusos.

Agosto 2013- Presenta en Montevideo en espectáculo en el que canta con sus propias musicalizaciones al poeta portugués David Mourão Ferreira- Espectáculo apoyado Por el Instituto Camões y la Embajada de Portugal en Montevideo.

Noviembre -2013 Presenta en Espacio Guambia (Montevideo) , DVD "El mar de Salvador". Este video fue grabado en la Sala Vaz Ferreira en octubre del 2012. En él, Stagnaro canta y dice al poeta montevideano Salvador Puig.
Los poemas sobre el mar en su mayoría inéditos, fueron musicalizados por el cantautor. Ellos llegaban a sus manos entregados por el propio poeta.La edición del video fue apoyada por la Dirección Nacional de Cultura del MEC y Casa de Los Escritores del Uruguay, con el auspicio de Biblioteca Nacional. Edita Yagurú.

2013-- Memorial del Convento de José Saramago-El cantautor Andrés Stagnaro relata a los alumnos de 6tos. años de escuela y alumnos de Ciclo básico de Liceo,un resumen de la obra con la proyección en diapositivas de las pinturas del Artista Plástico Lusitano José Santa Bárbara basadas en la conocida novela.
Esta actividad fue declarada de Interés por la Dirección Nacional de Cultura del Ministerio de Educación y Cultura- Uruguay- Auspicia:
Fundação José Saramago,Convivencia,Instituto Camões, Embaixada de Portugal em Montevideu. Casa de los Escritores de uruguay, Dirección Nacional de Cultura MEC., actividad que se extenderá en el año 2014

2014- Abril Cinemateca uruguaya- Festival de Cine- 25 de abril 40º aniversario de la Revolución de los Claveles- Día 26 de abril coincidiendo con la conmemoración. Película : Buen pueblo portugués, de Rui Simões. (p.47) 16.50 19.15 hs. RECITAL DE ANDRÉS STAGNARO

2014- Mayo- Auspiciado por el Instituto Camões y la Embajada de Portugal en Montevideo, presenta el espectáculos "Colores del Portugués", en el que canta canciones portuguesas y la actriz Ana Montesdeoca recita poesía de diferentes países lusófonos.

2014-Mayo- Presenta en el Museo Juan Manuel Blanes de Montevideo en un ciclo su espectáculo " Juana y Delmira" en el que canta sus musicalizaciones a estas dos mujeres referentas de la poesía uruguayas ( Juna de Ibarbourou y Delmira Agustini), en el que participa la Actriz Fabiana Charlo.

2014- Continúa como narrador en escuelas y liceos público con la actividad Memorial del Convento- En la que relata la novela del mismo nombre del escritor portugués José Saramago mediante imágenes de las pinturas del artista plástico Lusitano José Santa Bárbara referidas a la novela. Actividad auspiciada por Proyecto Convivencia saludable CODICEN, Fundação José Satamago de Lisboa, Instituto Camões y declarada de Interés Cultural por el Ministerio de Educación y Cultura-

2014- A más de dos años de la iniciación del ciclo, continúa realizando mes a mes en Montevideo el espectáculo "Canciones de la Guerra Civil Española"

2015 Enero- Nuevo espectáculo cantando a poetas musicalizados por él en base al tango. Lo presenta en Montevideo con el nombre de "Tangos y tangueces" en él participa el historiador, periodista y poeta Alejandro Michelena.